Why 400GE?
The industry continues to see exponential traffic growth and the need for technologies that enable increased bandwidth, high-performance and continually evolving services. With the new 400GE ports, Netnod customers can now run all their peering traffic through one single or redundant port. This minimises cost, improves scalability and offers the lowest price per megabit for peering in the region. The new 400GE ports also allows for a range of new products answering the increased demand for additional services provided over an IX port.
Platform
Netnod has made significant investments in the last two years to build a scalable DWDM platform enabling the most flexible, cost-effective peering and transport services in the region. Our platform uses state-of-the-art Data Centre Interconnect (DCI) equipment from ADVA Optical Networking and the very latest switching technology from Arista.
We use the Arista 7280CR3-32P4 box, released in 2019 and providing power efficient systems offering 400GE and a rich feature set. With this new switch installed on our platform, we have expanded our capacity for high-performance peering.
There were a number of different optical transceivers to choose from. We decided the Octal Small Form Factor Pluggable (OSFP) offered the best solution. It holds up well in terms of both heat dissipation and power consumption as well as being first on the market to offer 400GE.
We are currently delivering 400GE over LR4 and FR4 depending on the customer's need. Once ZR is available, we will also deploy that to help connect off-net customers.
400GE up and running at Netnod IX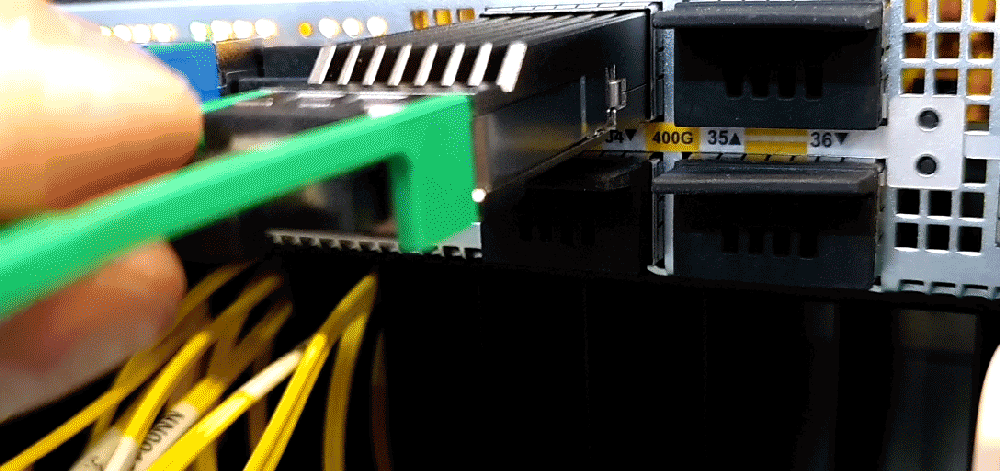 Here you can see one of our network engineers plugging an OSFP transceiver into the 400GE port on our Arista box. If you need a 400GE port in either Stockholm or Copenhagen, we are up and running and ready to connect you!